The natural palm fiber is used for making KAMENOKO TAWASHI. One is a palm form Sri Lanka and another one is hemp palm. All the qualified materials go through the hands of the craftman to become KAMENOKO TAWASHI.
1. Materials
The materials were taken form the coconut palm trees.
The fiber is strong to the water, which is the reason it is used for KAMENOKO TAWASHI.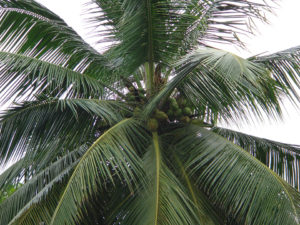 2. Husks
Only the husks will be used (the contents will be used for the other purpose). The splitter husks are soaked in water for 4-6 weeks.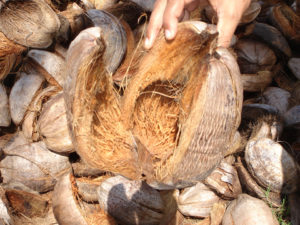 3. Pickering
The soften palm fruits will be put through the pickering machine to separate fiber from the skins.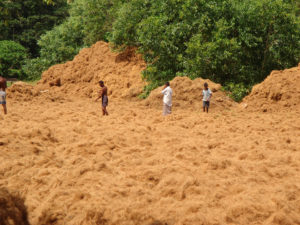 4. Combing
Only the palm fiber with a good thickness will be used.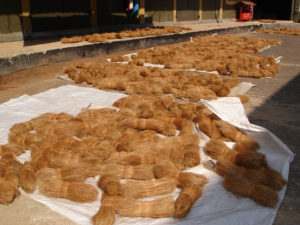 5. Cutting
The bundled fiber will be cut in a fixed size. And a wire is bended. All the fibers are put together with no space in between.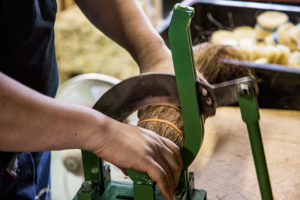 6. Coiling up
Coiling up TAWASHI into a bar is a delicate process that can only be done by hand.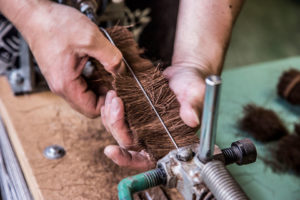 7.Trimming
The TAWASHI bar will be trimmed. This process will make a basic form of TAWASHI, the bar.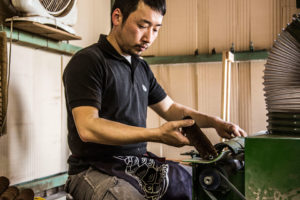 8. Finishing
The standard TAWASHI is made from bending the bar into a unique shape.
Putting on a string, cut off the wire, then the making of TAWASHI is done.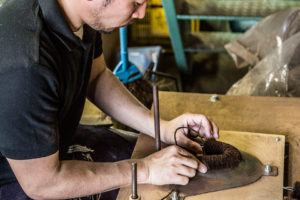 9. Inspection
All TAWASHI will checked carefully to make sure they meet all standards.
Only the qualify TAWASHI will be delivered to the consumers.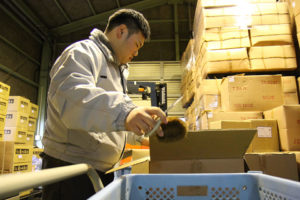 TAWASHI craftmen learn skills by observing TAWASHI that the senior craftmen made.
The production has not been changed since the establishment. The careful selection of materials and craftsmanship made Kamenoko TAWASHI a TAWASHI of Japan.