KAMENOKO Sponge, which takes over the name of "KAMENOKO" from the original "KAMENOKO TAWASHI", has been made to be a new standard of Kitchen Sponge.
Tomoko Ishiguro, a columnist, joined in product development and Atsushi Kikuchi, a graphic art designer, designed the package.
KAMENOKO Sponge is designed to have very basic essences of what we really expect a kitchen sponge to have.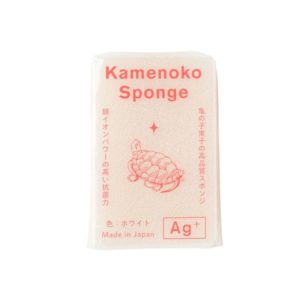 The great drainage achieved by Japanese-made high-quality urethane and antimicrobial effect of silver ion makes a perfectly hygienic sponge.