Our shops are Speciality of TAWASHI.
KAMENOKO TAWASHI Honten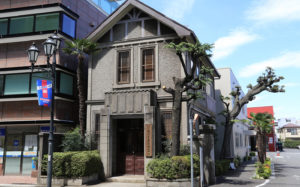 The store KAMENOKO TAWASHI Nishio Shoten came into being in 1907 (Meiji 40) in Hongo Masago-cho, Tokyo. The company headquarters was moved to the Takinogawa factory, thus escaping the effects of the Great Kanto Earthquake, and since then, has been operating in the current location at Takinogawa, Kita Ward, Tokyo. The company building, which escaped the devastation of the fires of the air raid, still retains its appearance as an example of pre-war Western-style architecture. It is a popular tourist spot for both old-school enthusiasts also researchers and fans of modern architecture.
At the directly managed store on the 1st floor of the building,
customers can handle a range of different TAWASHI scourers, from classic-style items that give you a sense of history, to goods and accessories. Feel free to drop by when you are in the neighborhood.
6 Chome-14-8 Takinogawa, Kita City, Tokyo 114-0023
Google Map
KAMENOKO TAWASHI Yanaka shop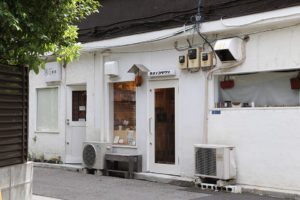 The KAMENOKO TAWASHI Yanaka branch opened in Taito Ward, Tokyo, in 2014. Yanaka is a popular area in Tokyo that still retains its charm as a neighborhood that was long-time home to many temples and craftsmen. Nowadays, its streets are lined with cafes and variety stores. It is here in Yanaka that younger generations and international tourists can discover all about about TAWASHI scourers.
The shop sells different kinds of scourers, including the original style kamenoko (young turtle) TAWASHI, in addition to original goods with the KAMENOKO TAWASHI logo—T-shirts, tote bags, hoodies, and accessories such as TAWASHI key holders. You will also see an unusual lineup of items that cannot be found in regular stores, together with a selection of TAWASHI scourers in different materials and sizes.
2 Chome-5-14 C Yanaka,Taito City, Tokyo 110-0001
Google Map